Akelah
Akela (nick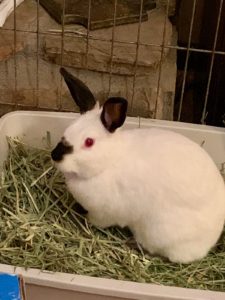 name: the bunstructor) – a white Californian but with her black nose and ears darkening in the winter, she is more of a New Zealand. She loves to chew on her cardboard castle and to our dismay, her carpets.
Andorf (named after the main character in A Stiff Wind Blows) – a chubby brown male chinchilla. Loves to be rubbed and will climb onto your legs to be pet.
Bailey (alias: Bails) – a handsome brown lionhead who loves to hide from you.
Jerry – a brown chinchilla with white marking on his torso.
Nugget (alias: Nuggers) – a solid black giant dwarf (if that makes any sense) who was found outside the local rabbit shelter with a sad note from a young child. He hides but wants to be pet at select time, coming to the pen gate for affection.
Sabrina – a black and white dutch who will chew anything and everything.
Sage – a soft white rex with spots running the length of her back. Loves to be pet on her nose and cheeks on her schedule.
Foster Buns:
Calamity (alias: Clams) – a soft white rex with a few spots on her back who hops about grunting at anyone who tries to touch her without consent.
Roosevelt – a small red-eyed white Californian who loves to be held when pet.