Our nine house bunnies. All are in separate (argh!) pens in three large areas of our house:
Akela (nick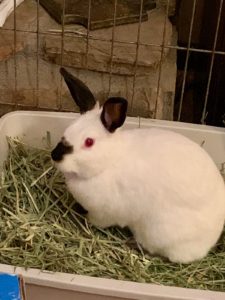 name: the bunstructor) – A white Californian but with her black nose and ears darkening in the winter, she is more of a New Zealand. She loves to chew on her cardboard castle and to our dismay, her carpets.
Andorf (named after the main character in A Stiff Wind Blows) – A chubby brown male chinchilla. Loves to be rubbed and will climb onto your legs to be pet. Been shedding lots recently. Gets nightly eye drop meds for sneezing. Suspect he is allergic to hay. (how can this be?)
Bailey (alias: Bails) – a handsome brown lionhead who loves to hide from you. Get nightly cold-laser for Neuropathy on his lower back and Muscle setting for his right rear leg.
Calamity (alias: Clams) – A soft white rex with a few spots on her back who hops about grunting at anyone who tries to touch her without consent.
Jerry – A brown chinchilla with white marking on his torso. Still playful at 6 years old. Gets cold-laser treatments on his bladder and then arthritis setting the length of his spine.
Nugget (alias: Nuggers) – A solid black giant dwarf (if that makes any sense) who was found outside the local rabbit shelter with a sad note from a young child. He hides but wants to be pet at select time, coming to the pen gate for affection. He has been favoring his left rear leg for sometime and gets nightly cold-laser treatments.
Roosevelt – A small red-eyed white Californian who loves to be held when pet on his face and bridge of his nose.
Sabrina – A black and white dutch who will chew anything and everything. At 11-1/2 years old, her rear legs are a big 'draggy.' Gets nightly cold-laser treatment for arthritis on the left rear leg, down her back, then constipation setting underneath.
Sage – A soft white rex with spots running the length of her back. Loves to be pet on her nose and cheeks on her schedule. She has all the markings of Mega-Colin but thus far has no symptoms.